First of all, Happy Birthday to Quest of Dungeons 7th anniversary, initially released on March 25th 2014 for PC and iOS. QoD eventually got several other versions and big content updates over time, and that's all thanks to the support of the fans, making it possible for me to continue working on it, so thank you.
One thing I got asked frequently was about a physical release, and it took a bit of time but I'm happy to announce that, in cooperation with Leoful, it's finally happening, and soon too, release date is April 13 and pre-orders are live (begin tomorrow, March 26).
This is a limited release, and for this special occasion we have a reversible cover, with the front art made by Nina Matsumoto, and the reversible side by Vasco Mariano, think it looks great and can't wait for everyone to start receiving it.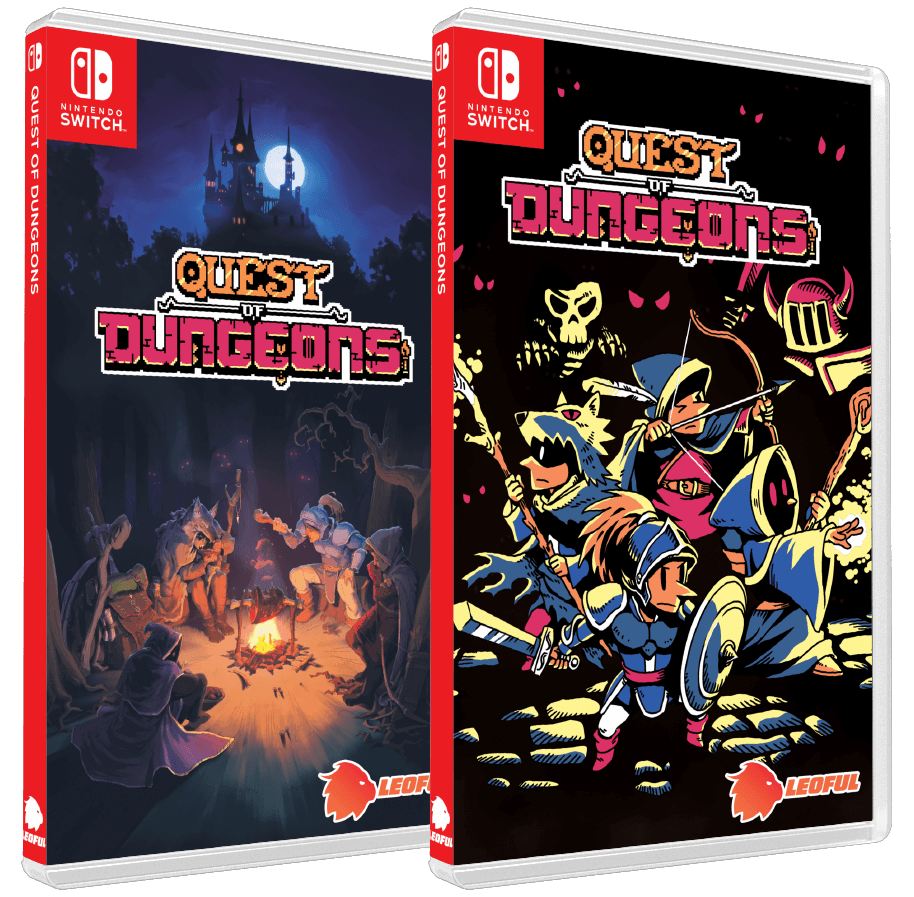 -F.A.Q.-
Where can I buy it?
[PLEASE STAND BY FOR LINKS, I'LL LINK AS I HAVE THEM, UPDATE IN PROGRESS]
Play Asia: https://www.play-asia.com/quest-of-dungeons-english/13/70eaxt
NintendoSoup: https://nintendosoup.com/product/quest-of-dungeons-physical-edition-nintendo-switch/
Bazaar-Bazaar: https://www.bazaar-bazaar.com/products/quest-of-dungeons
XtraLife: https://www.xtralife.com/producto/quest-of-dungeons-switch-estandar-asia/66724
Agugames: https://www.agugames.net/products/quest-of-dungeons

*Note: not in affiliation with any of the store links listed here, the order they are is random and not an indication of preference of any kind. Make sure to check where it ships from, for shipping costs & possible import taxes etc.
Is it region free?
Yes.
Is it a cartridge or a downloadable code inside the box?
A cartridge, also has a reversible cover.
How much does it cost?
Suggested Retail Price: USD24.99 / HKD195 / NTD710 / SGD34 (all prices exclude sales tax)
Any differences between with the digital version?
Both versions contain the same content, if you already own the digital it's the same game.